Culture Collection of Algae and Protozoa, Scottish Association for Marine Science, Dunstaffnage Marine Laboratory, Dunbeg, Argyll, PA37 1QA, UK, Tel: +44-1631 559000, Fax: +44-1631 559001, Email: ccap@sams.ac.uk
The Culture Collection of Algae and Protozoa (CCAP)accesses freshwater algal and all protozoan strains. The collection is housed at the NERC, Centre for Ecology & Hydrology, Institute of Freshwater Ecology, Windermere Laboratory.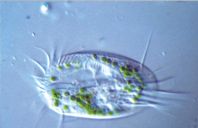 The CCAP maintains microalgae, including cyanobacteria and free-living nonpathogenic protozoa. The CCAP is an International Depository Authority (IDA) for the above groups of organisms under the terms of the Budapest Treaty (1977).